Rescue Mission Statement
Norfolk Terrier Rescue, Inc. is a 501(c)(3) non-profit organization dedicated to improving the lives and welfare of displaced or homeless Norfolk Terriers.
Norfolk Terrier Rescue, Inc. helps find new homes for Norfolk Terriers regardless of circumstance. 
Our mission is to ensure that all Norfolk Terriers have a home, to mentor new owners and to educate the public about the breed.
We believe that rescue includes many situations.  Dogs can need new homes for many reasons, for example, death, divorce, failing health, and other family situations, in addition to dogs that wind up in shelters.

We welcome any Norfolk Terrier in need and serve the entire United States through a network of Norfolk Terrier Club members and valuable friends.
If you have a dog in need of a new home contact: rescue@norfolkterrierclub.org
If you are looking to adopt a Norfolk please visit our Facebook page, Norfolk Terrier Rescue, where we post dogs as they become available.
 "Please only fill out an application if there is an available dog posted on the facebook page. Otherwise applications will not be saved."
Officers and Contacts:
President: Heidi H. Evans
Vice President: Marian Shaw DVM
Treasurer: Sue O'Brian
Secretary: Ann Hoenig
Director: Lauri Rossi Sherick
Contact Info: Kelly Brown
Rescue Donations
Donations can be made to the Norfolk Terrier Rescue (NTR) and mailed to:
NTR
2084 53rd Street
Sarasota, FL 34234
Attn: Sue O'Brian
The NTR is a 501-3C non-profit organization and fully funded by donations. Donations may tax deductible (please check with your tax advisor).
The Board of NTR and Norfolk Terriers Thank You!
New Rescue Story - September 2020
Meet Ben and the three ladies that begin with a "J"
Ben is our most recent rescue. Ben is three years old; he has now had four homes in his short life. His first home was of course where he was born. The second was the first time he was sold and then for some reason those people placed him in another home where the owner fell on hard times and became homeless. The owner was hospitalized and Ben was put into a shelter. A nice lady came to his rescue and her name is Jan. She has had Ben for two years. Jan has always had big dogs and her yard is not set up for little dogs that are prey driven. Ben had managed to slip out of the yard and Jan feared he would get lost or worse. He is terribly busy and needs more attention than she can give him. She loves Ben but felt that she must let him go and wanted to do what is best for him.
Ten years ago, I rehomed a dog to a friend of a friend named Joanna. Her little dog Mandy Is getting older and is in rather poor health. Joanna's friends wanted to get her a new puppy fearing when she lost Mandy she would be depressed. Joanna and Mandy have been through a lot together. They both have had cancer and they helped each other through those trying times. Mandy is a therapy dog: she has made so many people smile over her years on the job. Joanna and Mandy have a special bond.
About a month ago Joanna's dear friend, Jen, called me asking if I had or could put her in touch with someone who had puppies. At the time I did not know of anyone who had a litter. Two weeks later Ben's owner, Jan, emailed me. I spoke to her and then called Jen. She and Joanna went to visit and meet Ben. I think this was meant to be. Joanna and Jen were only a little over an hour away. Ben being three years old will be much better around little Mandy because a puppy can sometimes be a bit overwhelming for an older dog. Most of all Ben needs a home and Joanna needs him.
THANK YOU, LADIES, who made this possible. Jan who has placed him in his new home, Jen for caring so much for her friend to search for a new pup, and Joanna who is Ben's new puppy mom. Ben has at last gone to his forever home. May the rest of his days be sunshine and tummy rubs.
Submitted by Sue O'Brian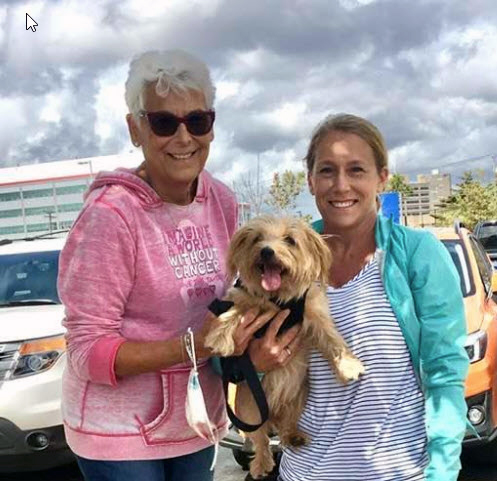 Pictured above from left to right.
Joanna, Ben and Jen.
Rescue Story...
The two dogs in the picture were rescued from a "puppy mill". A generous member of the Norfolk Terrier Club purchased these two dogs "Freddie" and "Ezra" from an online advertisement. As can be imagined both dogs did not have a very good life and needed much love and attention. After the dogs were cared for by a Vet, they were rehomed through Norfolk Rescue. The dogs went to two different homes located across the United States. The new owners had communicated with each other and stayed in touch, but had never met in person. Then at a Norfolk event the two owners met for the first time and the dogs were reunited for a visit. It was a touching site to see. Everyone was smiling and of course, there were a few tears.